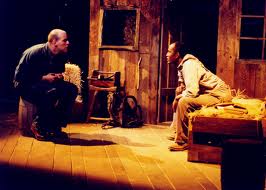 Chapter Four Summary
In chapter four, we finally interact with Crooks and figure out what kind of a person he is. When the chapter begins, Crooks is in his room rubbing his back and Lennie walks in. Lennie tells him that the others have gone into town but Crooks doesn't want him in his room. So at first he tells him to leave but then he says okay. Candy comes in after a while and they start talking about the farm despite the fact that George said not to tell anyone else. At first, Crooks thinks they are fools and that it won't happen, but then after a while he asks them if he can join them. Curley's wife comes in asking about her husband and they tell her where he is. They try to make her leave but she doesn't listen. Crooks tries to make her leave but she puts him down by threatening him. When the men come back from town, she leaves and George comes looking for Lennie. In the end of the chapter, Crooks tells them that he doesn't want to go with them anymore.
Ad blocker interference detected!
Wikia is a free-to-use site that makes money from advertising. We have a modified experience for viewers using ad blockers

Wikia is not accessible if you've made further modifications. Remove the custom ad blocker rule(s) and the page will load as expected.